Aransas Pass (Lydia Ann) Lighthouse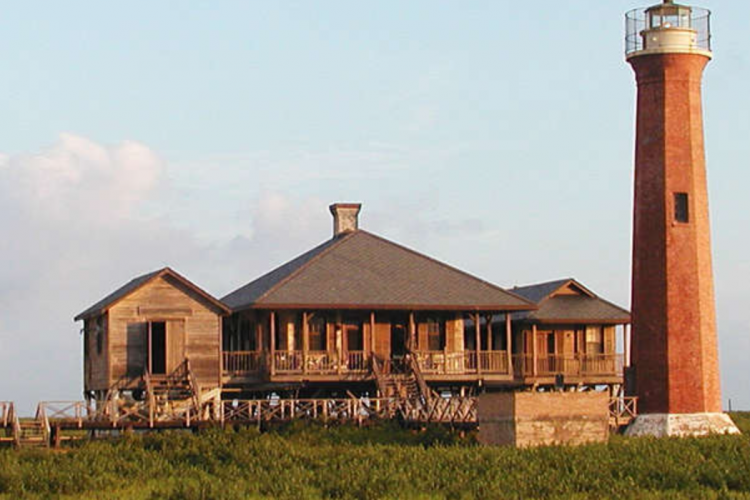 Visit a historic land mark in our area, the Aransas Pass Lydia Ann Lighthouse.
Operating from 1857 to 1852, with periods of non-operation due to the Civil War and hurricane damage, the Aransas Pass Lighthouse is one of the most famous local landmarks. The Aransas Pass Lighthouse, later referred to as the Lydia Ann Light after the Lydia Ann Channel, which runs north from the pass, is a wonderful historic attraction in the Port Aransas Area. With a storied history, this lighthouse is listed on the National Register of Historic Places, and holds the distinction of being the second oldest lighthouse on the Texas Gulf Coast.
With just under 100 years of operation, the lighthouse is the oldest standing structure in the Corpus Christi/Port Aransas area. Only accessible via boat or kayak, it is likely you will encounter the area's aquatic life, including dolphins and various fish along the way. Privately owned, the structure can only be viewed from the public waterway that runs next to it. You can also view it from local boat tours, but make sure to ask if the lighthouse is included on their tour route.   Port Aransas Lydia Pass Lighthouse Information   The lighthouse is viewable from the Intercoastal Waterway from Port Aransas. A good place in particular is to launch a boat or kayak from the Lighthouse Trails located next to Highway 361. This is between Aransas Pass and the ferry to Port Aransas.  
Learn more about the history of this historic lighthouse here.