See What You Can Reel In Deep Sea Fishing in Texas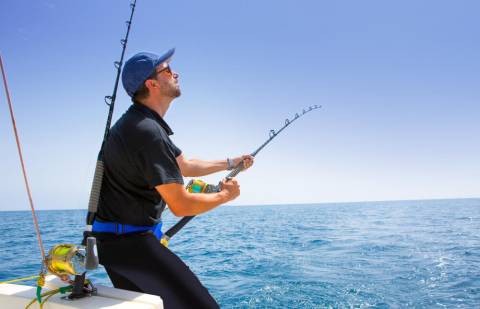 While Port Aransas is known as a premier destination for families, the Texas island is ideal for anyone looking to enjoy a vacation filled with endless sunshine and thrilling adventures. Be close to top activities and adventures by booking your stay with Port A Beach House Company. Our incredible short and long-term rentals are the perfect place to unwind after a day of fun, including a day of deep-sea fishing in local Texas waters.
A Guide of 5 Port Aransas Fishing Charters
With more than 600 species of saltwater fish in the waters off Port Aransas, there is literally no shortage of fish in the sea. Increase your chances of reeling in a big one by booking your spot on an outing with a Port Aransas fishing charter.
1. Captain Kelly's Deep Sea Headquarters offers several offshore trips throughout the week. Spend anywhere from five to 12 hours casting your line for everything from kingfish to shark. 
2. Set off on an offshore excursion with Dirty 3rd Fishing. The six-hour tour is the perfect addition to any visit. If you're looking to spend longer out on the water, they do offer extended charters.
3. For years, Port Aransas Sportfishing has been a go-to option for anyone looking to go deep-sea fishing. Their charters range from six to 12 hours. While they provide all the necessary equipment, you are responsible for purchasing a fishing license.
4. Fisherman's Wharf is a top destination for all things sea-related, including offshore fishing. The six-hour outing is excellent for beginner anglers, while more experienced guests will love the 12-hour trip. There are concessions available for purchase.
5. The captains at Come and Take It Sport Fishing have years of experience fishing South Texas waters. Their offshore fishing trips in the Gulf of Mexico will have you trying your hand at reeling in snapper, tuna, swordfish, and more. 
Plan a Coastal Getaway with Port a Beach House Company
From deep sea fishing to relaxing on the beach, there is no shortage of ways to be on or near the water during a Texas vacation in Port Aransas. Keep the aquatic views going by reserving an oceanfront rental from Port A Beach House Company. Staying in one of the luxurious Port Aransas rentals means you have a relaxing space to call home. In addition to all the basic necessities, our rentals come with additional amenities like a community pool and boardwalk access to the beach. To learn more about any of our phenomenal rentals, call 361-749-0027.