Encounter Wildlife on Port Aransas Dolphin Tours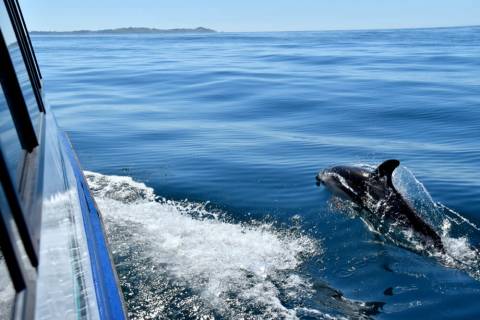 Found on the Texas Gulf Coast, Port Aransas is home to endless beauty. Located on Mustang Island, the popular beach destination is known for miles of shoreline and waters filled with over 600 fish species. No stay with Port A Beach House Company is complete without spending time out on the open seas. While fishing is a popular option, there are several other aquatic activities to try on your Port Aransas vacation, including dolphin tours.
The 3 Best Guided Dolphin Outings
The Gulf of Mexico waters offer incredible dolphin-watching opportunities year-round. Even in the dead of winter, water temperatures remain pleasant enough that the dolphins who call this area home don't leave. One of the best ways to get an up-close look at these majestic creatures is on guided tours.
1. The Scarlet Lady Dolphin Adventure takes you out on the Lydia Ann Channel as you look for dolphins frolicking in the waters and sea birds flying overhead. Tours last about an hour and a half and departed from Captain Kelly's Deep Sea Headquarters next to the ferry landing. Once onboard, stop by the bar for a pina colada or other beverage.
2. There are two options when booking through Neptune Charters. The first is their original nature tour and shrimp trawl, and the second is a sunset version of the same cruise. Both take place aboard The Mustang, a 65-foot boot with two decks that can hold up to 85 passengers.
3. Sky's the Limit Parasailing is more than an excellent option for parasailing. They also offer private dolphin-watching trips. These excursions last about two hours and can accommodate up to 12 people. Check online for availability, as tours are dependent on their parasailing schedule.
Reserve Your Stay in a Top Port Aransas Community
At Port A Beach House Company, not only are our rentals near top activities, but they're also the perfect place to call home. After a day out on the water exploring with one of the local dolphin tours or fishing with a local guide, relax in comfort at your Port Aransas home base.
Our collection of vacation rentals includes homes and condos in some of the best communities. Each location is unique and comes with its own incredible amenities designed to enhance any stay. To learn more about all your options and which fits your stay best, call 361-749-0027.