Dine Out at the Best Restaurants in Port Aransas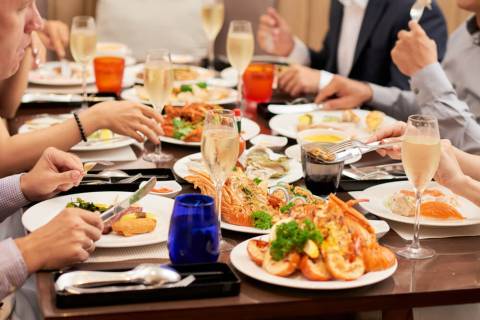 When planning a getaway to Port Aransas, it won't take you long to discover there is no shortage of things to do and see. With so many adventures to embark on, there are a few key things you need to have a successful vacation. One is a relaxing place to call home, and Port A Beach House Company has that covered. You also need spaces to help you refuel, and the variety of restaurants in Port Aransas ensures you will never go hungry.
5 Places to Eat in Port Aransas
While your Port Aransas vacation rental has a fully equipped kitchen, sometimes the last thing you want to do on vacation is cook. Lucky for you, there are several incredible places to eat in town that cater to a wide range of palates.
1. Ire's Island Food, a family-owned restaurant, is known for delicious dishes served in a casual atmosphere. The menu has a little bit of everything, from tacos to shrimp baskets.
2. For a unique dining experience, Seafood & Spaghetti Works. Sip on a specialty cocktail while browsing the eclectic menu filled with seafood, Italian dishes, and more.
3, If you're looking for the perfect margarita, head to La Playa Mexican Grille, which opened its doors in 2002. Known for both Tex-Mex and Mexican cuisine, the menu is filled with so many options you might have a hard time choosing.
4. Couples looking for a great date night option should try Lisabellas. Create your ideal three-course meal at this fine-dining restaurant, featuring a sharable appetizer, delicious entree, and decadent dessert.
5. If you have any seafood lovers in your group, be sure to dine at Tortuga's Saltwater Grill. This spot is inspired by the coastal environment and strives to plate elevated seafood. This is also an excellent spot for brunch!
Enjoy a Delicious Meal in Your Port Aransas Rental
Get your meal to-go from one of the phenomenal restaurants in Port Aransas and enjoy a quiet night in. Your vacation rental from Port A Beach House Company has everything you need to rest up for another day of fun.
Curl up in the cozy living room for a movie night, or go for a dip in the pool. While all our rentals come with the basic comforts of home, each is unique and has additional amenities designed to enhance your stay. We even have pet-friendly rentals! Browse our inventory online, or call 361-749-0027 for help selecting your home away from home. Don't forget to check out our special offers before booking your stay.